e-learning, Social Learning and Digitization for EGNATIA EPIRUS Foundation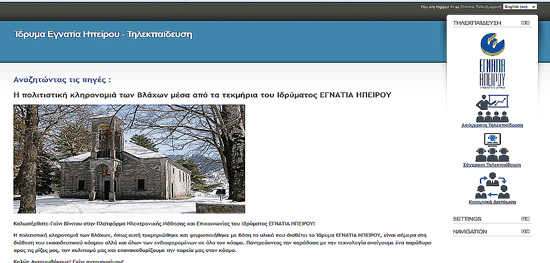 Implemented within the national Operational Program "Digital Strategy 2006-2013" co-financed by the Greek State and the European Union, an important project for the protection and promotion of the rich cultural heritage of the Vlachs has been successfully conducted by the EGNATIA EPIRUS Foundation through the collection, restoration, management and promotion of the archives of the Foundation with a special emphasis on the Vlach community.
The project aimed at better managing and promoting the existing data through the use of new technologies. Thanks to the digital technologies, everyone has the opportunity to access various information collected by the EGNATIA EPIRUS Foundation, including: data about the traditional and contemporary folklore civilization, data about the pre-industrial technical civilization, data about the commercial activities, the Diaspora and the urban life of the Vlachs. Books, audiovisual documents (music, songs, dances and traditional events) as well as photographic archives (from collections of individuals, organizations, villages, archeological sites, monuments, etc) have been collected and digitized for this purpose.
More than 300 books and albums, thousands of pictures and hours of audiovisual documents in relation to the cultural heritage of the Vlachs have been collected, indexed and digitized by the EGNATIA EPIRUS Foundation with the support of individuals and Scientifics. The content and the services offered by the online platform promote in the best way the collection and the work of the Foundation and serve research, educational and information objectives.
The online platform also offers community networking tools and e-learning services.